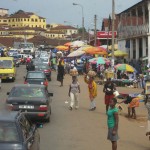 The last decades witnessed progressive growth in vehicle numbers in Ghana, particularly in the major cities of Accra, Tema and Kumasi. Increasing mobility has significant effects on urban lifestyle and generates economic opportunities. However, the rising volumes of traffic and congestion result in higher emissions of greenhouse gases and air pollutants. Air pollution causes serious health problems and harms the wellbeing of the local population. Greenhouse gas emissions affect climatic variability, food security and national and international climate change and low emissions development efforts. Rising transport emissions therefore present a great challenge to city and national authorities.
The IGES Ghana Eco-Transport Program addresses local concerns about climate change and air pollution, providing holistic solutions to the challenge of rising transport emissions. The program builds local capacity to monitor and reduce transport emissions using advanced technologies, best-practice policies and pioneering business models. The Ghana Eco-Transport Program provides cost-effective, efficient and equitable solutions for reducing the emissions of the entire vehicle fleet and particularly of older, high-emitting vehicles. It is implemented in full collaboration with local stakeholders, national authorities and international organizations, including the UNFCCC and international development banks.
As part of this program, IGES executed the 1st of-its-kind vehicle emissions Monitoring, Reporting and Verification (MRV) project in Africa in 2015. IGES used real-world MRV technology to monitor the emissions of on-road vehicles, at various location in the city of Accra. The project provided verified emission records for individual vehicles, distribution of emissions according to vehicle categories and comparison of emission levels to those in European cities. It was implemented in full collaboration with the Government of Ghana and local and international stakeholders.
The real-world MRV project highlighted some major challenges to reducing transport emissions in Ghana:
Emissions of all measured pollutants were significantly higher than those allowed under equivalent international vehicle emissions standards (Euro Standards);
Across all vehicle categories, emissions were significantly higher than those measured in European cities;
5% of the most polluting vehicles (High Emitters) contributed up to 50% of overall emissions of measured pollutants.
The MRV data highlighted where effective action can be taken to reduce transport emissions in Ghana, supporting robust actions to mitigate climate change and improve air quality. IGES is using project results to develop comprehensive technology and policy measures to reduce transport emissions, mitigate climate change, improve air quality and promote low emissions development, in consultation with national and international stakeholders and full collaboration with the Government of Ghana.
Please see also:
https://sustainabledevelopment.un.org/partnership/?p=13548
http://ppmc-cop21.org/iges-ghana-eco-transport-program-real-world-transport-emission-monitoring-and-mitigation/
http://www.ghanaweb.com/GhanaHomePage/NewsArchive/artikel.php?ID=358558
https://business.un.org/en/projects/50#tab_overview
Donate to this Project